Book holiday home in Rome
BICI & BACI
(Scooters rentals / Bikes rentals / City tours)
Via del Viminale, 5 - 00185 (Rome)
+39 06 4828443 - +39 06 94539240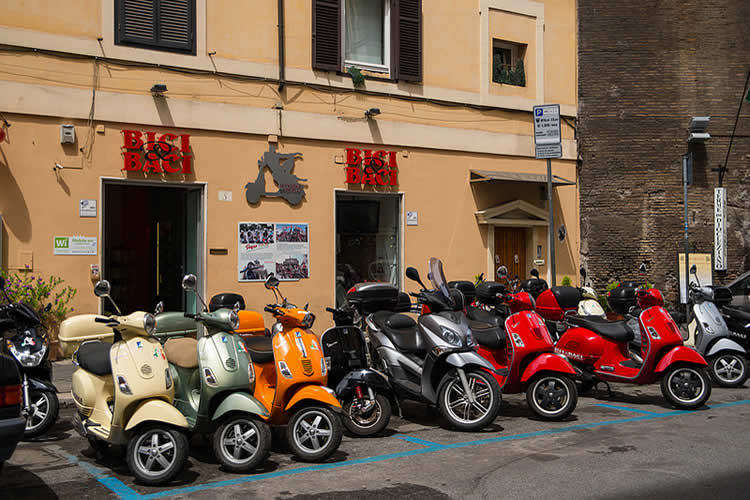 BICI & BACI is an agency specializing in the rental of two-wheelers in Rome: bicycles and scooters. The two wheels are the best way to fully enjoy the beauty of Rome, to visit the archaeological and artistic sites and to discover the lesser-known areas, outside of the classical routes. Everyone knows the Vatican and the Roman Forum, but few go so far as to walk the Via Appia Antica, or to admire the Bramante's temple on the Janiculum ... We organize tours by bicycle, scooter tours and also tours with authentic vintage vintage scooter: discover Rome accompanied by an expert guide, riding a genuine Vespa!
View Detail
View on Map
Top service Ncc
(Transfer NCC / City tours)
Stazione Tiburtina (Rome)
+39 347 5235169
Website
MYSCOOTERENTINROME.IT
(Scooters rentals / Bikes rentals / City tours)
Via Lazio, 33 - 00187 (Rome)
+39 06 4202 0818
We organize tours to Rome aboard our scooters or electric bikes with guides in Italian or English, depending on the time available to clients and their badget (minimum 3 hours and 3 people). The tour "The magical view of Rome" is a tour with scooters with driver and interpreter, he does see Rome from high, from tourist spots such as the Pincio, the Janiculum and the Zodiac to Monte Mario.
Website